One of the staples of college football Saturdays for over 25 years has been the television show College Gameday on ESPN.  College football fans across the country begin each Saturday morning with ESPN's table-setting program that helps introduce the narratives underlying the match ups each week.  The banter bounces from heartfelt, off-the-field, journalistic stories that highlight athletes who have overcome family issues, health obstacles, and poverty to on-the-field match ups that often fuel regional debates about which conference is better, who's the best player in the country, and whose schedule is more challenging.
Each week the show travels to a different college town that's hosting that week's "big" game.  The hometown students and fans come out by the thousands to listen to the pundits banter back and forth and to try to get their two seconds on television.  The success of the show can directly be attributed to the unique atmosphere and social cohesion that college football provides.  The television show piggybacks on the passion of the fans and the traditions unique to each school giving free publicity to a different school each week.
Throughout the years, the easiest way for students in the crowd to get on the camera has been to create catchy, funny, and edgy signs which they hold up in the background.  In recent years ESPN has even capitalized on this whimsical tradition by having the public vote for their favorites.  (You can see the weekly winners of last year here.)  Mixing together the passion of college students with their sophomoric, hormonal inclinations, it is not surprising to find a large number of inappropriate signs being held aloft each Saturday.  My guess is that they're always in the market for camera men and women with quick eyes and quick hands to pan away from the most offensive.
This past Saturday, Gameday was in Tuscaloosa for the big Alabama-Ole Miss football game, and two signs in particular have created quite a stir.  The first sign calls Ole Miss girls "easy," and the second pokes fun at Ohio State's head coach Urban Meyer and his health concerns from a few years ago.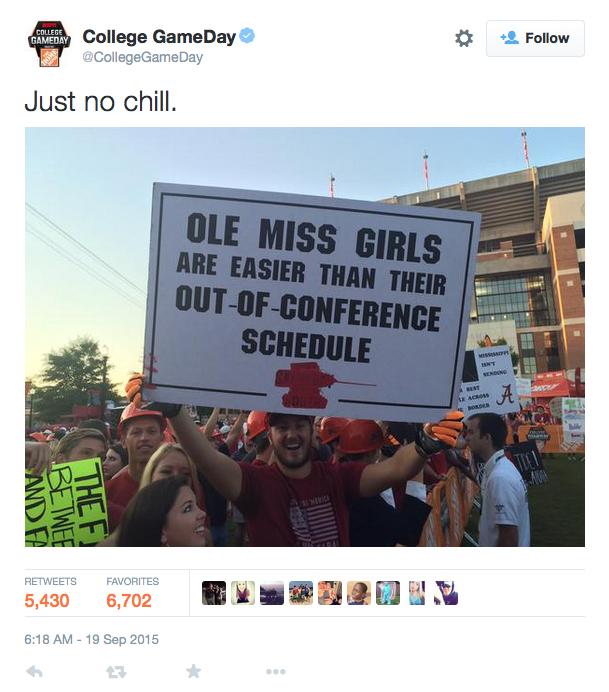 ESPN took flack for the first sign before GameDay was even over, and Urban Meyer's wife and daughter tweeted GameDay taking exception to the implications of the other sign (which GameDay had tweeted a picture of saying it was the most Retweeted (and Appropriate) sign from Saturday's broadcast).
"All of this was done in good, clean fun!" I'm sure the creators of these signs would argue.  How many times has that statement been used as an excuse for some kind of misunderstanding?  After all – it's just sports, right?  I know as well as anyone – we've all got our own sense of humor.  Some things one person finds hilarious, another finds offensive.  I often find a great deal of humor in these signs as creative college students try to outwit one another, and there's always a fine line one walks between being edgy and being offensive.
As is usually the case, however, there is something deeper going on here that I felt was worth a few blogposts.  In this first post, I want to focus on sports and rivalry at the highest levels, then I will look at what rooting against teams and people can do to our identity, and finally shift gears and talk about the implications that this has in youth sports.
Rivalry is one of the great things about sports.  Few would argue that sports would be better without Ohio State versus Michigan.  Army versus Navy.  Harvard versus Yale.  Duke versus North Carolina.  Cowboys versus Redskins.  Yankees versus Red Sox.  Celtics versus Lakers.  Steelers versus Browns.  (Sorry if I missed yours!)  These rivalries take on a life of their own.  They are all bigger than the game themselves.  Professional sports leagues try to create rivalries with newer teams to help deepen the narrative for fans.  We have bulletin boards where we can talk trash to other fans.  We make cartoons.  We make jokes.  We have the Dead Schembechlers.  (They epitomize rivalry – check them out).  We create College Gameday signs.
One of the things that rivalries do is help remind us of who we aren't, and by default help further deepen our own identity.  If alma maters and marching bands and stadium-wide cheers are intended to remind us of who we are, rivalries help articulate who we aren't.   I live in Columbus, OH so the rivalry I am most familiar with is Ohio State and Michigan.  Woody Hayes famously went for two in a blowout game and when asked why he did it he said, "Because I couldn't go for three."  Urban Meyer recently made a student to 20 push ups in class for wearing blue.  When Brady Hoke was hired as Michigan's coach he would only refer to Ohio State as Ohio. During Michigan-week in Columbus, a local store will let you trade in a blue article of clothing (which they donate to charity) for a "Beat Michigan" tee shirt.  All of this serves to build the community.  To remind us that we are Buckeyes – and Michigan still sucks!  But . . . as the signs from this past weekend remind us, the drive to define ourselves against someone else is often problematic.
In the next blogpost, I want to consider the hiring of head football coach Urban Meyer by the Ohio State University and discuss how it illustrates the way identity formation works within the community of sports fans.  How can fans of Ohio State so deftly embrace the same Urban Meyer who coached the University of Florida when they defeated (no destroyed!) Ohio State in the national championship several years ago?  How has our impression of him changed?  How do we see him differently?  And, correspondingly, how has the impressions of Florida fans changed?  Are these perspectives rooted in reality or is something else going on? I think there are answers in these questions and others that help point out the challenges and quandaries that rivalries and rooting against other teams and players creates for Christians.